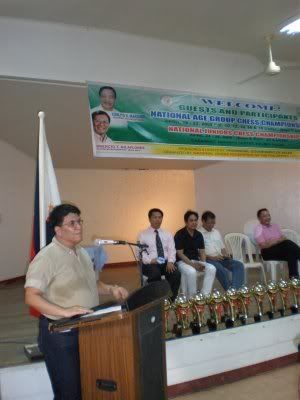 The search for the future chess grandmaster continues.
National Chess Federation of the Philippines (NCFP) president Prospero 'Butch' Pichay, Jr. opened the first-ever National Age Group Championships in the province of Aklan today at the Gov. Corazon L. Cabagnot Tourism Training Center here.
Pichay said this tough and high-caliber competition in Aklan will expose the future grandmasters in the game of chess with the best players in the country.
"Naniniwala ako na ang mga Filipinos ay isa sa mga pinakamagaling na chess players sa buong mundo. Pag marami ang chess tournaments sa juniors, we could produce another Wesley So (I believe that Filipinos are among the best chess players in the world. If there are many junior chess tournaments, we could produce another Wesley So)," he said.
The national juniors tournament, which is open to players 20 years old and below, will be on April 24 to 28 and the third Asian Indoor Games regional eliminations for Region VI, which is open to non-masters, on April 18 to 20.
The chess tournaments officially kicked off with Aklan Governor Carlito Marquez, Aklan Rep. Florencio Miraflores, Provincial Administrator Atty. Diego Luces, NCFP executive director Willie Abalos and Grandmaster Jayson Gonzales in attendance during the opening ceremony.
Pichay also thanked the provincial government of Aklan led by Marquez and Miraflores for hosting and supporting the NCFP chess tournaments this year. Aside from trophies and prizes, the champions will earn slots in the Philippine Team to the 2009 World Juniors Chess Championship in Mar del Plata, Argentina on October 16 to 29, 2009.
NCFP chief arbiter and National Master Wilfredo Neri said the five-day age group tourney until April 22 is divided into six categories: Under-18, Under-16, Under-14, Under-12, Under-10 and Under-8.
Pichay said the champions in the age group tournament would don the country's colors in the 10th ASEAN Age-Group Championships in Hue, Vietnam on June 11 to 20, 2009 and in the World Youth Championships in Condino, Italy from November 23 to 29, 2009.
Pichay said the federation would sponsor two national age groups tournaments this year as part of the program to develop caliber chess players and to send them in the international tournaments abroad. /PHOTO BY BOY RYAN ZABAL